We enable learning through a personalised provision; working in partnership; and inspiring each student to reach their own heights. Our aim is to support young people to access an ambitious, broad, and balanced curriculum that will challenge them to achieve their full potential.
What students learn
At the heart of our curriculum is a commitment to ensuring that the programmes of study we offer are interesting, challenging and lead to success for our students. Our curriculum provides high academic challenge alongside specialist support to address the challenges to learning that our young people have faced. Our curriculum nurtures character, self-esteem, and personal and social development; and instils our PRIDE values and Respect Charter.
At KS1, 2 and 3, our work prepares students for their next phase of education, after a period of respite with us (often between 6-18 weeks). Students are taught in small groups with a "stage not age approach" to ensure that learning and support can be tailored to their individual needs. On joining us, students' attendance and attainment is often well below their mainstream peers and we place a particular emphasis on supporting students to re-engage with their learning over time.
We communicate effectively with our mainstream partner schools to ensure that we have the correct information to address specific gaps in students' knowledge and develop the skills and learning behaviours that will allow them to access learning in the classroom. The respite curriculum has priority focus on the core National Curriculum subjects of English and maths as well as an individual growth curriculum for each child. Reading and developing readers is high priority for us, and through the curriculum and our targeted interventions, pupils are supported to become more confident readers.
The Individual Growth Curriculum provides all students with the opportunity to experience a wide range of subjects from the National Curriculum and beyond: Physical Education, Personal Development, Outdoor Education, PSHE, Science, Art and Food. At KS1 and 2, elements of History, Geography and RE are taught through the topic curriculum. Students who require additional support may also receive targeted core/therapeutic interventions to accelerate and support their progress.
The additional focus for Year 9 students is to address gaps in core subject areas with specific literacy, numeracy and reading interventions, preparing the foundations for a successful GCSE pathway at Key Stage 4, which supports them in their next stages of employment and training.
Students who join us in KS4, or students for whom it is recognised that our school is the most appropriate provision, remain with us until the end of year 11. This provides continuity and stability through these important years.  The Key Stage 4 Curriculum at The Heights, Burnley consists of the core subjects of English Language, Maths and Science alongside: Personal Development, Careers and Physical Education. Students also have a wide range of options to choose from including English Literature, Art, ICT, Sport, Outdoor Education, Construction, Hair, Beauty and Barbering, Food and Cookery Skills, Health and Social Care, Caring for Children and Young People, Wellbeing and ASDAN.
The pastoral and wider curriculum at The Heights, Burnley is equally important as the academic curriculum. Students are organised into tutor groups using information gathered during the admission process. Students remain in these tutor groups for their duration of their placement with the same form tutor, who builds a rapport with them and their families. Students have structured daily tutor time and assemblies once a week that cover a wide range of themes such as how to stay safe online, healthy relationships and raising aspirations. This curriculum is further enhanced throughout the school year with a focus on enrichment opportunities, CEIAG and preparing for life after The Heights, Burnley. We are committed to developing the whole person and our curriculum design reflects this.
Surrounding everything we do at The Heights, Burnley is our commitment to developing students' Social Emotional Wellbeing. This curriculum is at the heart of everything we do. We instil a sense of high aspiration, self-worth and character development. Through our daily interactions and conversations, we help students to articulate and navigate their feelings. Our therapeutic intervention programme offers purposeful and skilled sessions to improve thoughts, feelings and behaviours. We pride ourselves on quickly building respectful relationships with our students helping them to feel safe and able to re-engage with learning.  Our personal development offer allows students to engage with new experiences, raise aspirations and allow students to become confident, skilled and successful adults. We have an ethos of 'we go again' to help students learn how to move past situations where better choices could have been made and a consequences approach to behaviour and attitudes whereby negatives and positives are dealt with separately and one is not affected by the other. We ensure our students feel safe to take risks in their learning and ask questions through our pedagogical approach to lesson delivery.  Our approach to the curriculum is aspirational and allows students to experience success.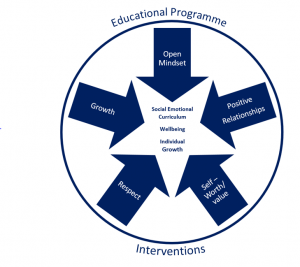 How students are supported to learn
Our universal offer is accessed all students upon joining us. Our targeted offer is determined by the agreement with the mainstream school and will either be a respite or long term place. Through our baseline procedures, ongoing assessments (both academic and social emotional wellbeing) and identifying previously unmet SEND, students may access specific interventions.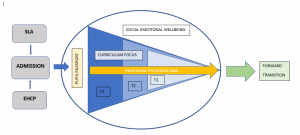 We believe that excellent teachers are the most valuable resource in our school, and we are committed to continuous professional learning and development.  We are outward looking, networking with other professionals to ensure that teachers remain experts in their field and are best placed to maximise learning for our students. Our staff recognise that our students have gaps in their knowledge due to a variety of factors but our responsibility from the moment they join us is to address this as quickly and efficiently as possible to give every student the best possible chance of success.
There are regular assessment opportunities across lessons and programmes of study to check that the gaps are being addressed. Our teachers are knowledgeable, promoting appropriate discussion about the subject matter being taught. They systematically check students' understanding, accurately identify misconceptions and provide clear, direct and instant feedback.
Our approach to teaching has developed according to research such as Bruners's Spiral Learning Theory and Rosenshine's Principles of Instruction. Over the course of study, teaching has a sharp focus on 'knowing more and remembering more' to support students develop their long-term memory skills.
Teachers at The Heights, Burnley ensure that their own speaking of the English language supports students in developing their language and vocabulary successfully. We use Quigley's SEEC model to teach vocabulary, focusing on correct understanding and application of subject specific vocabulary. Our approach to the teaching of reading develops students' confidence and encourages enjoyment in reading. Novice readers are taught by specially trained teachers who deliver the phonics programme 'Read, Write Inc'
The impact we have on our students
Students leave The Heights, Burnley being well prepared for their next phase in education or at KS4 their next phase of education, employment, or training. They leave us with a re-engaged vigour to succeed; experiences of academic success; high aspirations; improved strategies to self-regulate and raised self-esteem. Students show respect for others and are confident and ambitious. Students leaving at KS4 are well informed about the opportunities that exist for them beyond school and how to achieve their ambitions through well-structured CEIAG and enrichment opportunities such as work experience and college visits. Almost all students go on to further their learning on courses or in training that match their aspirations.
Our curriculum is underpinned by a range of assessment approaches, which allows teachers to support students to embed and use knowledge fluently, check understanding and inform teaching. Our students develop detailed knowledge and skills across the curriculum and, as a result, achieve well. This is reflected in our internal assessment information and outcomes for GCSE and vocational qualifications at KS4.