As part of our primary school provision we aim to provide a rich and varied curriculum for our children to engage with. Through our teaching, we hope to inspire a love of learning in all our children and there will be high expectations of both participation and outcomes. Where appropriate, we follow the national curriculum.
Nurture
Children will take part in daily nurture sessions. During these sessions, we will address any concerns or difficulties that have arisen through personalised development activities. Nurture sessions will allow children's self-esteem, resilience, mental health and wellbeing to flourish.
Numeracy
In numeracy, we will establish firm foundations to raise the standards for all children. We will bridge the gaps in learning and develop number fluency. We will encourage children to apply their numeracy skills in a variety of ways and teach practical skills including telling the time and using money. We also aim for children to expand their mathematical vocabulary and practice their ability to use it confidently.
Literacy
In literacy, we will raise our children's standards in reading, writing, spelling and speaking and listening. We will introduce children to a range of fiction and non-fiction texts which span the genres. Phonetically decodable books are available in each classroom. We will encourage reading for pleasure and, through this and oracy work, we will extend children's vocabulary. Children will create a variety of texts, writing for a purpose and creatively building content and stamina over time. We will promote the use of accurate spelling, punctuation and grammar and use phonics across the key stages to strengthen our writing. For guided reading sessions we use Oxford Reading Tree books and Read Write Inc books.
Phonics- Read Write Inc
Phonics will be taught discretely in both Key Stage 1 and Key Stage 2- for this we have a "stage not age approach". We will build upon children's phonetic knowledge to create a solid foundation for decoding and blending. In Key Stage 2, we will also explore phase 6 spelling rules to help to raise the standard of spelling in our writing.
Foundation subjects
Foundation subjects will be taught through topic-based learning where we will develop children's knowledge of the world. Children will take part in practical sessions which have been tailored to their needs including planning and completing scientific enquiries. We will encourage curiosity about the world and inspire children to ask questions.
Key Stage 1 Sample 6 week overview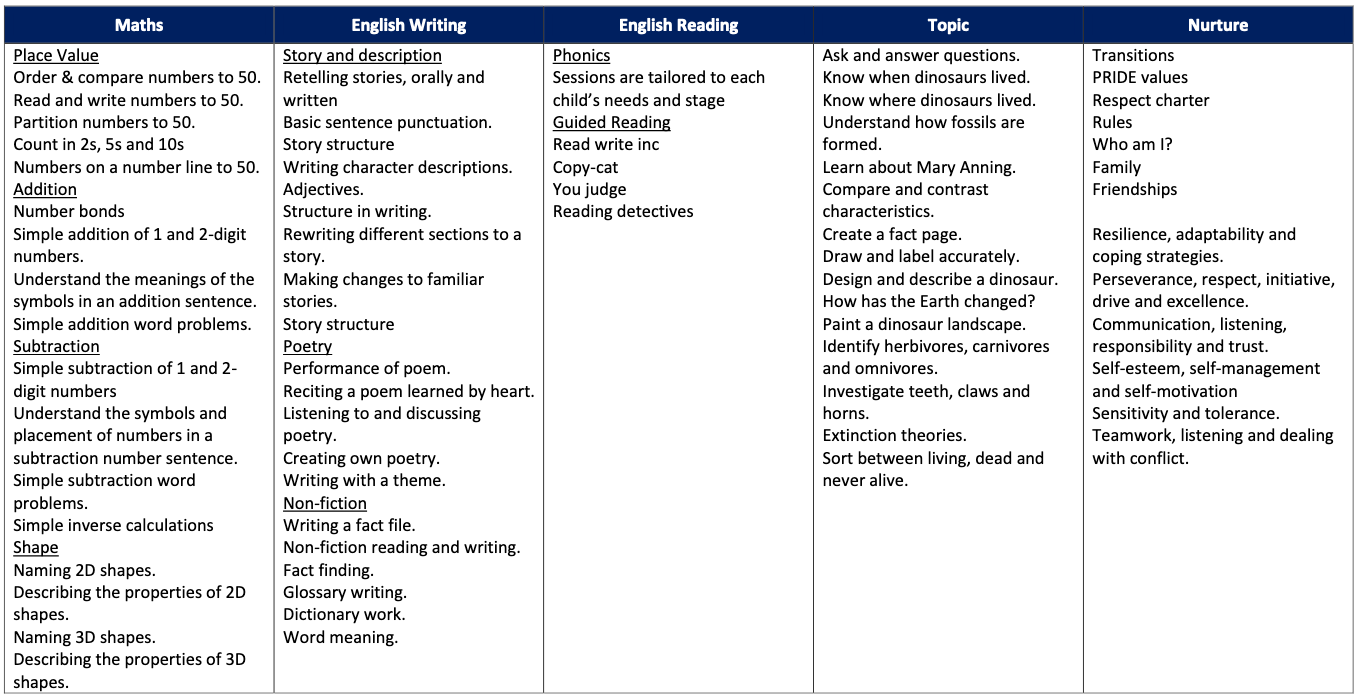 Key Stage 2 Sample 6 week overview